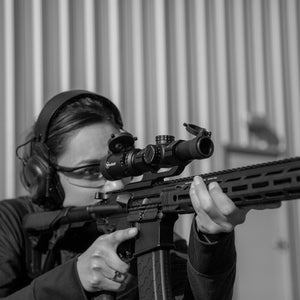 What is the most versatile and economic Firefield riflescope?
First-time shooters, seasonal marksmen and dedicated gun enthusiasts all need the same thing: a reliable riflescope for any occasion. Whether you're a competitive 3-gunner, a recreational shooter, novice hunter, or simply engaging in self-defense, you don't want any doubts when it comes time to pull the trigger. 
Firefield's RapidStrike 1-6x24 checks every box for every type of shooter. 
As a low-powered variable optic (LPVO), the RapidStrike 1-6x24 is excellent for shooting at a variety of distances, from 25 yards up to 150 yards. Its red, black, or green illuminated reticle helps shooters acquire their target with speed and precision, and the 1-6x magnification ensures shooters can take an accurate, safe shot.
Additionally, the RapidStrike's 24mm objective lens gathers sufficient light from the environment to provide the shooter with a clear, well-defined image. 
3-Gun Competition
If you're a 3-Gun competitor, the RapidStrike is RIGHT for you. Its pop-up locking turrets, crystal-clear reticles with multiple brightness settings and massive battery life all combine to make the RapidStrike a hyper-dexterous riflescope for any 3-Gun professional or amateur.
Also, 3-Gun courses are fast-paced and drops happen. Fortunately, the RapidStrike 1-6x24 has a sturdy aluminum housing and is shockproof for 3-foot drops or less! For most shooters, this is adequate durability in any 3-Gun competition. 
Self-Defense
For other shooting situations, such as self-defense confrontations, the RapidStrike 1-6x24 is an excellent riflescope. Its sleek, aluminum housing with matte-black finish is eminently tactical, perfect for law enforcement personnel and military servicemembers.

The fully multi-coated lenses and brightness settings for the reticles accommodate the various environment and target preference situations that law enforcement and military personnel often find themselves in. 
Hunting
While not necessarily a hunting-specific optic, the RapidStrike could provide some advantages to the shooter. For example, pigs, coyotes and groundhogs are low-profile, quick creatures that erratically run in bursts, ducking and diving, trying to avoid human attention, and by extension, gunfire. The RapidStrike can quickly adjust to short- and medium-distances, improving accuracy without sacrificing ethicality. 
Toughness
Like all Sightmark products, the RapidStrike is extremely durable and has a Limited Lifetime Warranty. The RapidStrike operates in temperatures ranging from -13F to 131F. It is 100% protected against solid objects like dust and sand, and works for at least 30 minutes while under 1m of water or less.
This means—barring extreme environmental conditions—the RapidStrike is going to work when you need it most. Plus, for lovers of larger calibers, the RapidStrike is rated to handle a maximum recoil caliber of .338 Winchester Magnum. 
An All-Around Riflescope
Few riflescopes cover all the bases like the Firefield RapidStrike 1-6x24. Whether you need a tactical scope, a 3-Gun scope, a self-defense scope or something for hunting, the RapidStrike is excellent. 
To get yours now, click this link:
SKU: FF13070K
Do you own a Firefield RapidStrike? How do you like it? Let us know in the comments! 
---